Haven't Joined the CM Community yet?
FREE! Join the
CAPITAL-MANAGER Community
Capital Manager Premium Market Report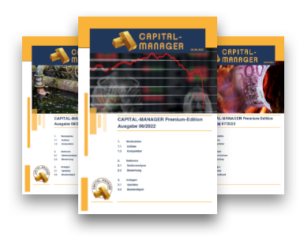 12 Months Annual Subscription
What does
CAPITAL MANAGER Premium

offer?
With CAPITAL MANAGER Premium, you can be sure of a cutting-edge information advantage for your investment decisions.
In addition to the multi-page monthly issue, you will receive ALL trading alerts & portfolio recordings via email, straight to your inbox. Benefit from our top-down view on the global markets and gain insight to potential profit generators for your stock portfolio!
Target
Logical investment ideas with cornerstones from the Bloomberg databases and the results of the proprietary Stone Scoring System model.
Live Webinars (Exclusive Access)
K. Janke and B. Stein discuss the current situation on the world markets, exclusively with the CAPITAL-MANAGER Premium Community. In these 40 minuites sessions, S&J (Stein & Janke) discuss global stock indices, commodities and forex in exclusive live trading, focused on long-term strategies and answer questions from the community.
Stone Scoring System (SSS)
The SSS has been used by many asset management companies for over 19 years. Primarily, the 'top-down model' is structured with weighting (3x macro, 2x sector & 1x investment) clearly defined. But it is also applicable for each investor and can be applied withindividual weighting & risk rating.
SSS (Stone Scoring System) – now available in digital form, exclusively for CAPITAL MANAGER Premium Members CAPITAL MANAGER Premium offers exclusive access to the individual point system. The CAPITAL MANAGER Premium reader is thus trained to become an independent analyst, including the provision of exclusive content for your fund manager.
Be sure not to miss any opportunities that turbulent times hold for your capital investments!
In each monthly CAPITAL MANAGER Premium issue, you can expect multi-page, razor-sharp analyses and hot trading opportunities to use as part of your personal investment strategy.
Based on macroeconomic factors of the world market, we evaluate individual, successful investment options using the "SSS" – Stone scoring system. This inclusion of individual companies or options is the direct result of the solid sector analysis of leading global industries and current world political trends.
What exactly does CAPITAL MANAGER Premium offer?
You too can enjoy the unique advantages of the CAPITAL MANAGER Premium model with the SSS (Stone Scoring System). In addition, you will receive weekly exclusive access to the CAPITAL MANAGER Premium LIVE CALL with Konstantin Janke.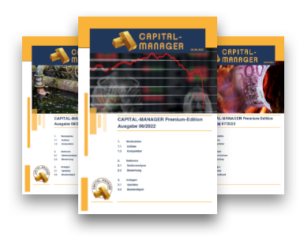 12 Months Annual Subscription
SECURE YOUR EXCLUSIVE ACCESS NOW
CAPITAL MANAGER PREMIUM ACCESS!